Here's the list you've all been waiting on, the 2019 MRC Run Club Grand Prix: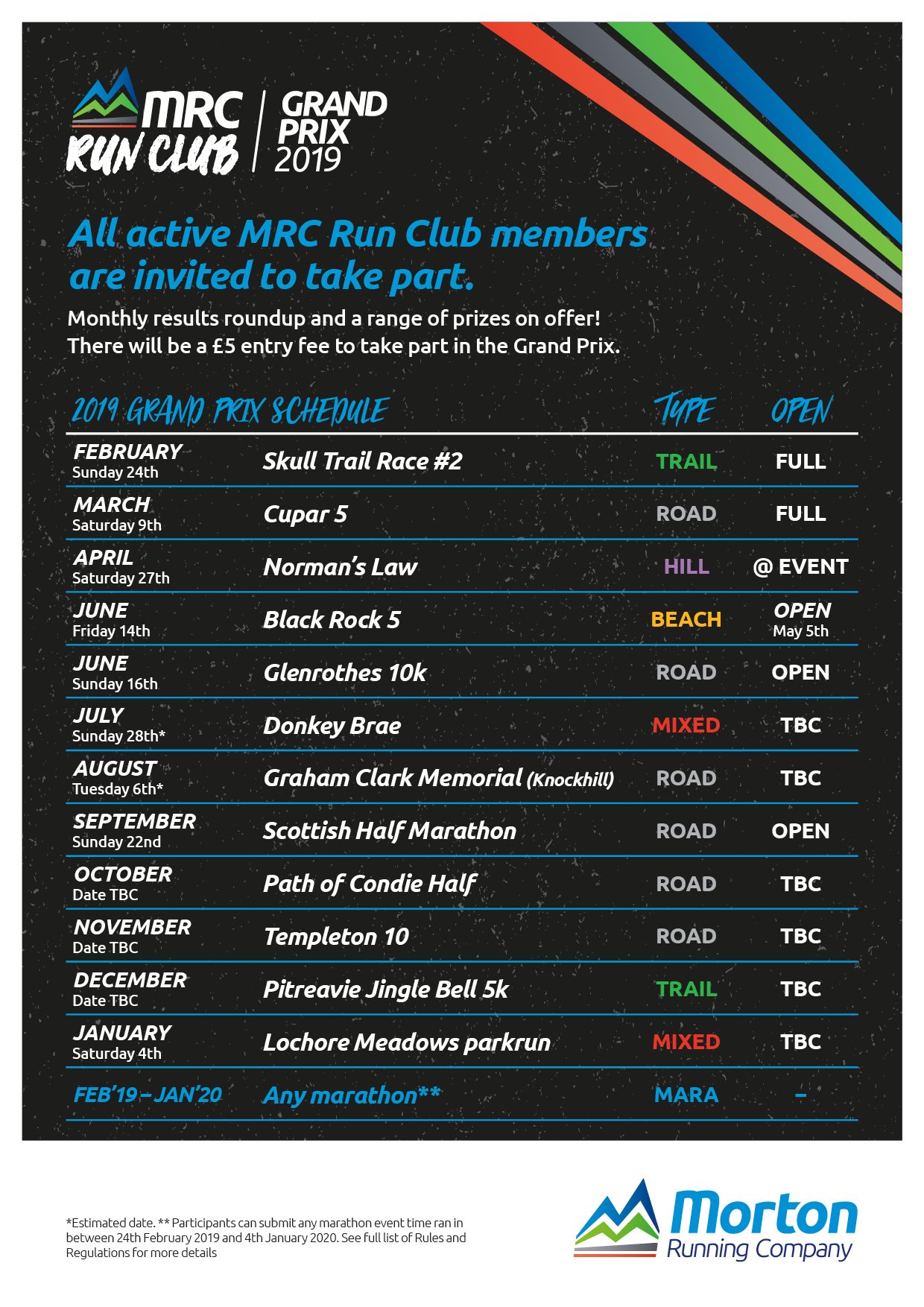 Grand Prix Rules & Regulations
2019 sees the 2nd running of the MRC Run Club Grand Prix which will take place throughout the calendar year.
All active MRC Run Club members (members who have made purchases within one calendar year of application date) shall be invited to participate, and upon verification of their date of birth, shall be allocated the appropriate age group category (as at January 1st 2019):
Junior                         <18
Senior                         18 – 34
Vet                              35 – 49
Super Vet                   50 – 64
Super-duper Vet        65+
The events that are included in the Grand Prix have been decided by the management and are not up for negotiation.
We have tried to ensure a range of distances and standards of competition throughout the Grand Prix that provides a balance of local and national events that will aim at encouraging participation by all ability levels.
The Grand Prix will consist of 13 events, with an individual's best 5 scoring events qualifying them for the competition.
The person with the highest number of points in each age group category will be the winner.
To qualify for an award, an individual must take part in a minimum of 5 events in the Grand Prix.
This year we have added a 'wildcard' marathon event. Any runner may enter, run and finish any recognised marathon worldwide in between 24th February 2019 and the 4th January 2020 and once the result has been verified, this can be submitted. We shall trial a 'marathon score column' where an individual's marathon points score will show throughout the year, in relation to others. This score shall not be added to an individual's full results until after the last event, thus giving their final total.
Scoring in each event will not be age group based, but on a single finish list and will be 50 points for 1st home, 49 for 2nd, 48 for 3rd etc with all competitors scoring at least 1 point for completing an event.
Runners are reminded that, for Grand Prix scoring, if a race is being 'chip timed' it is the order in which runners cross the finish line that counts and not the chip time.
There shall be Awards for the first three places in the following male and female age group categories: -
Junior                         <18
Senior                         18 – 34
Vet                              35 – 49
Super Vet                   50 – 64
Super-duper Vet        65+
OPEN
The OPEN class will be awarded to the first three in the overall table irrelevant of age group, thereafter the awards will be determined by age group.
An award will be made to every individual who takes part in the full number of counting events in the Grand Prix.
The MRC Trophy will also be awarded to one Grand Prix participant who has excelled beyond expectation rewarding either a one-off performance, a series of consistently high results or a significant improvement in ability over the course the Grand Prix.
The decision on this award will be made by the management at the end of the year and is final.
Participants are required to comply with all 'local rules' set by the organiser of each event. (Note that these rules will often include minimum age limits, which may result in some of the younger club members being unable to participate in some races).
Participants should also be aware that it is a UKA rule (for very good reasons, e.g. in case of accident or injury) that you must run only in your own name, and this rule also applies to the MRC Grand Prix. (It is legitimate to swap names in advance if the organiser approves and changes the name appearing in the results).
For clarity, this rule will be applied on the straightforward basis that for a result to count it has to appear in the official results against the name of the person who actually ran.
Failure to comply with the above requirements will render participants subject to disqualification from the Grand Prix race and also subject to potential disqualification from the Grand Prix itself, dependent on the discretion of MRC Management (note for guidance: repeat offenders will be viewed in a particularly poor light).
For clarity, if it is necessary to disqualify a participant from a Grand Prix event, all other competitors will then move up one place.
Participants are also expected to comply with good etiquette always and specifically must comply with all instructions from race organisers and marshals, must do nothing to adversely affect the good name of Morton Running Company and the MRC Run Club and should do nothing to either favour or adversely affect the performance of other Grand Prix competitors during races.
At the present time, only a few dates for the thirteen races have been published and there always remains the possibility of further change.
Further information on race dates will be publicised as and when known.
In the event of any of the announced races being either cancelled or clashing with another race on the list, MRC Management reserves the right to select an alternative race where practical when both time and the calendar allow.
It is certainly not mandatory for an MRC Run Club singlet, t-shirt or long-sleeved shirt to be worn in the grand prix races – but it is highly encouraged.
Limited Edition Grand Prix apparel has been designed and is available for purchase (date TBD).